Reacting to the verdict of Accountability Court handed down to Nawaz Sharif and the members of his family, PAT Chairman Dr Muhammad Tahir-ul-Qadri has said that the punishment given to the Sharif family is disproportionate to the magnitude of crimes they committed but stated that he is happy that those considered to be untouchable have started to get into the accountability net. He said that JIT, Prosecutor NAB and the judge of the Accountability Court deserve to be congratulated. He said that it has been two decades since we have been raising our voice regarding the inland and overseas properties of Nawaz Sharif and at long last truth has come and the godfather of corruption has met his fate.
As soon as the decision about Nawaz Sharif was announced, central secretariat of PAT reverberated with slogans. The party leaders made victory signs and congratulated each other and distributed sweets.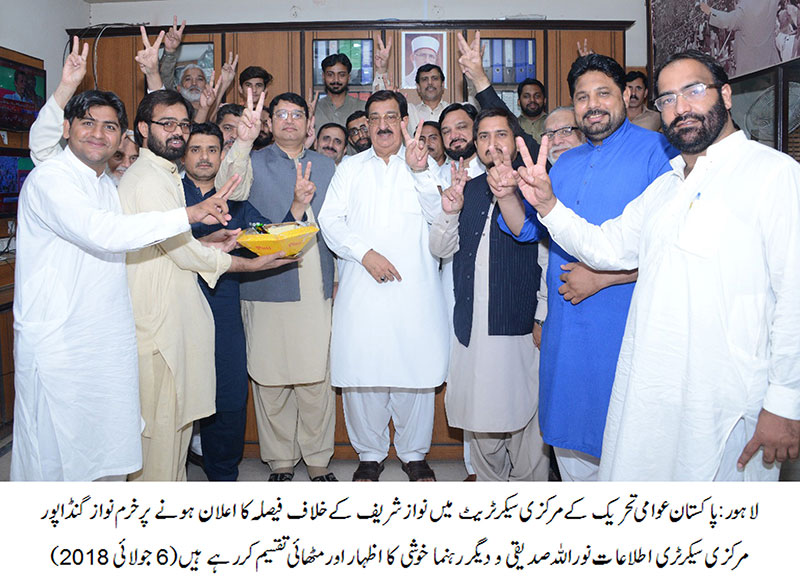 Speaking on the occasion, PAT Secretary General Khurram Nawaz Gandapur said that in addition to the overseas properties, those located in Pakistan should also be confiscated, adding that the process to confiscate properties abroad is very complex and involves several layers. More fees will need to be given to lawyers than the fine imposed on the convicted by the court. He said that it is better that all properties of the Sharif family including agricultural land and factories should be sold and the proceeds from their sale should be given as fees to confiscate the overseas properties.
Khurram Nawaz Gandapur said that we are happy that the thief has been proven to be a criminal, stating that it is unfortunate that despite enough evidence available, Nawaz and Maryam were allowed to go abroad. He said that there is now a less possibility of NS coming back after the announcement of the verdict. He said that it is our effort that those involved in Model Town case are also held to account for killing innocent people. He said that the tiger of circus was aware of the decision and it is for this reason that he ran away. He said that real challenge for the institutions of Pakistan is to bring back the looted money.
PAT Secretary Information Noorullah Siddiqi said that rejection of the court decision by the President of the PML-N is condemnable. He said that the convicted do have a right to appeal against the decisions but not of rejection. He said that it is not the decision of Martial Law or a subordinate court of Doger-led court but is a decision of a free and independent judiciary. He said that Shahbaz Sharif should be ashamed of himself while rejecting the court verdict. He said that both Shahbaz Sharif and Hamza are as happy as anyone else, stating that they should not do any drama.