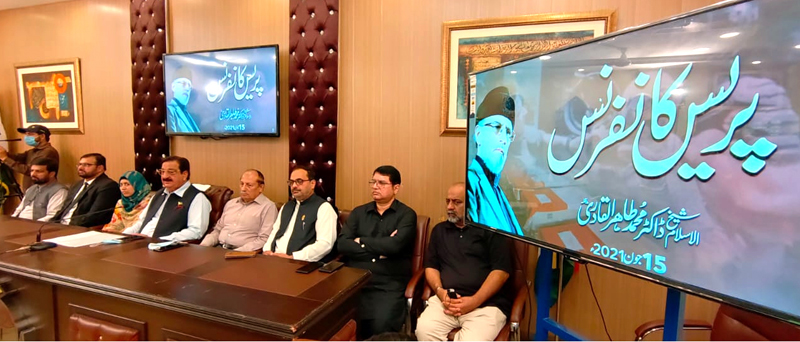 While addressing a press conference on the audio link, MQI founding-leader Shaykh-ul-Islam Dr Muhammad Tahir-ul-Qadri has said that even PTI government could not ensure justice to the martyrs of the Model Town tragedy. The assurance from three powerful office holders could not open the door of the justice. He said the JIT constituted before the larger bench of Supreme Court was stopped from working at the eleventh hour when it was going to submit its investigation report. He said that two hundred witnesses recorded their statements before the JIT and for the first time, the statements of the Model Town affectees were also recorded, a process that led to the placement of important evidence on record.
Dr Tahir-ul-Qadri said the larger bench of the Supreme Court instructed MQI and PAT to seek legal remedy instead of adopting the path of protest, adding that we followed the directions of honorable Supreme Court and abandoned the protest movement. He said that we are honouring our commitment and hoping at the same time that powers that be will also honour their commitment to provide speedy justice. He said that PM Imran Khan has been standing with him shoulder to shoulder during the protest campaign. He advised him to do some retrospection. He said had Imran Khan wanted, the wrong perpetrated on the innocent workers could have been righted.
PAT Secretary General Khurram Nawaz Gandapur, senior MQI leaders Brig. (r ) Iqbal Ahmad Khan, Noorullah Siddiqui, Jawad Hamid, Bisma Amjad, daughter of Tanzila Amjad Shaheed, Naeem-ud-Din Chaudhry Advocate, spokesperson of PAT's legal team, GM Malik, Rana Muhammad Idrees, Raja Zahid Mahmood, Arif Chaudhry, Tayyab Sheikh and others were present during the press conference.
Dr Tahir-ul-Qadri further said that the Sharif brothers got fake cases registered against the PAT workers out of political vengeance. Those cases have been pending in the police stations without any proceedings. He said if Imran Khan had wanted, all fake cases would have been withdrawn through a single executive order. He added in the same breath that it baffles one to see as to why he has kept the cases intact and alive.
Dr Tahir-ul-Qadri said that former COAS General Raheel Sharif had promised to ensure justice to the victims. He said Imran Khan remained part of the movement for justice and even CJP Mian Saqib Nisar had placed his on hand on Bisma Amjad's head and advised her to materialize her Shaheed mother's dream of getting education. The CJP took it upon himself to provide justice to her and other families of the martyrs. He said he does not think there could be a more powerful office in Pakistan than this.
While responding to several questions, MQI leader said that only impartial investigation could unearth the identity of real perpetrators behind the Model Town tragedy. He said that it is for this reason that we earnestly desire that JIT submits its report after completing the probe as soon as possible. He said the non-compilation of the JIT report has halted the process of dispensation of justice. He said that we hold judiciary in high esteem and can not even imagine to take law into our hands nor did we ever do so in the past.
Dr Tahir-ul-Qadri said that the day when this tragedy took place, we snatched licensed weapons from the guards so that they could not fire back in self-defence. He emphasized that we are peaceful people and reminded that he has imparted the lesson of peace to his workers throughout his life. He said that it is unfortunate that no one listens to the peaceful people here anymore.
Dr Tahir-ul-Qadri bemoaned that the country has lost the ethical politics and values. He said as long as this corrupt, oppressive and exploitative system stays intact, the poor will remain deprived of their fundamental right to justice. He said that the powerful get relief from courts even on holidays and easily fly abroad by fabricating the medical reports. He said that on the other hands, the martyrs who are gunned down in broad daylight keep begging for justice for years. He revealed that there are nine fake FIRs lodged in Lahore and 6 in Islamabad registered against the PAT workers that can be terminated by one executive order of PM Imran Khan.
Speaking on the occasion, PAT Secretary General Khurram Nawaz Gandapur said that a peaceful rally would be organized from Aiwan-e-Iqbal to Punjab Assembly on 17 June and those responsible for administration of justice will be reminded of their obligation. He said that PAT will organize rallies in more than 50 cities across Pakistan on June 17.